Technology continues to advance
Institutions adopt MindhostsPlus to Transform
Institutions are searching for ways to enhance their operations and provide better learning experiences for their students. Adopting MindhostsPlus, institutions can digitally transform their education system. This includes implementing hybrid smart classrooms where teaching can be offline, online or in self-paced mode, digitizing academic content delivery, and providing access to interactive learning tools. This not only enhances the learning experience but also improves the overall functioning of the institution. MindhostsPlus will be helpful to automate institution activities, reduce paper work and bridge the communication gap between the stake holders of the institution (Management, Teachers, Students and Parents), in short MindhostsPlus transforms your institution into a SMART CAMPUS.
MindhostsPlus (MHP) HOST eLearning and ERP Solutions Platform provides a seamless and convenient way for institutions to launch their 'Own branded web and mobile APPs'. By leveraging the MHP institutions can automate their functioning, ease their responsibility by automating repeated tasks, and instantly share messages, announcements, events, and more. With the ability to launch web and mobile APPs on their own brand, institutions can establish a strong online presence and reach out globally.
HOST eLearning and ERP Solutions Platform
Streamline your institution's operations
Automate the functioning of your institution
Ease your responsibility by automating the repeated tasks
Instantly share announcements, Msgs, events & so on...
Launch web and mobile APPs on your own brand
Admin Dashboard Of Mindhostsplus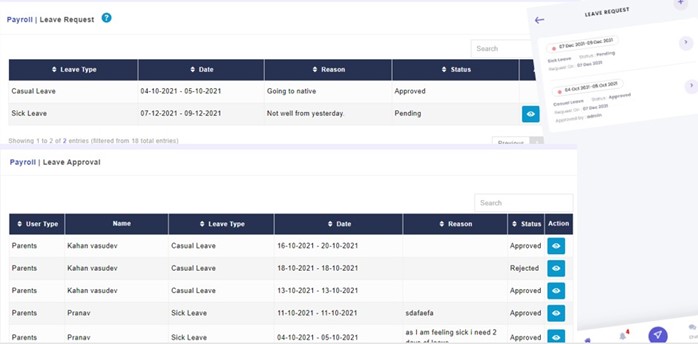 Web, Android & IOS Versions
Add the advantage of bridging the gap between Admin, Staff, Student & Parents through the Mobile Apps along with the Web application.  MindhostsPlus is an user friendly Android & IOS application. Features include tracking online classes/homework, sharing announcements, event updates. MHP comes with an inbuilt messaging system which supports parents and teachers 24/7. Parents receive regular performance updates on the mobile. Mainly, MHP provides the application on your Institution's Name (both web and mobile APPs), thus giving it a rich look and feel, easy to sort out by parents and staffs.
MindhostsPlus offers Free Domain and Hosting
MindhostsPlus offers a cutting-edge technology that is revolutionizing the way businesses operate. MHP comes with a free domain and hosting, which can save clients a lot of money. The platform has a talented team that provides 24/7 support to help clients with any issue that they may encounter. MHP, the platform is accessible to individuals and organizations that want to harness their capabilities to streamline their processes and enhance their online presence. MHP has a Client Friendly support team that is always ready to assist clients and provide prompt support. The MHP HOST eLearning and ERP Solutions Platform is an excellent choice for anyone seeking high-quality service and support.
Support of MHP in your Social media campaigns
MindhostsPlus HOST eLearning and ERP Solutions Platform provides a range of features and tools through which we assist you in realizing your vision, mission and objectives by using the social media platform. By doing so, we support in Increasing website traffic, getting feedback from the users. We help in shaping your goals, by supporting you in your social media campaigns to appraise them about your efforts to your target audience, increase your brand awareness, serve as a customer support channel for your customers. Also mainly we help you to create and maintain the campaigns in Linkedin, Facebook, Instagram, Twitter etc.
MindhostsPlus Promises you a 'No cost Upgrade'
MindhostsPlus HOST eLearning and ERP Solutions Platform is committed to providing the best user experience to all its subscribers. To this end, the platform offers a no-cost upgrade on the go, ensuring that users always have access to the latest features and functionalities. Furthermore, the platform provides a comprehensive service that includes not just the technical aspects of eLearning and ERP solutions, but also the creative and strategic aspects. MindhostsPlus HOST eLearning and ERP Solutions Platform takes inputs and requirements from its clients, performs thorough analysis, and brings those ideas to life with highly appreciable outcomes. With its commitment to excellence, the platform is an excellent choice for organizations looking to take their eLearning and ERP solutions to the next level.
Benefits of Mindhostsplus
Interested in knowing the profit/gain of  Mindhostsplus you are about to attain!!!
School/College admin
Our Comprehensive system takes care of major tasks in school/college, reduce human error and maintain reliability.
Homework
Attendance
Events
Online Classes
school/college Announcements
Teacher
All teaching and non teaching activities are managed effectively with minimal paper work and time.
Homework
Attendance
Events
Online Classes
school/college Announcements
Parent
Parents get real time updates of school/college and children in form of online classes, time table, fees detail and so on...
Homework
Attendance
Events
Online Classes
school/college Announcements
Want to launch our app?
Launching our application can be done in 3 simple and easy steps.
What our client say
"Word of mouth is more powerful and best medium of all."
As a teacher, this application helped me alot in scheduling the online classes, homework and tracking attendance.
The handling of the application has become so easy and time effective. Thank you Mindhostsplus team for making my work easy.
SPROUT ACADEMY
India
Firstly i wish to show my gratitude to Mindhostsplus system for backing me up during the pandamic situvation.
The application they provided at time supported in many ways in handling the adminstration.
Their features like Scheduling and sharing the Online, homework details, attendence record in few clicks,
managing the announcement and notification, etc... were so much helpful.
As they mention, the team is so friendly and supportive in taking up our feedback,request and deliver te feature at time.
SPROUT ACADEMY
Kuala Lumpur, Malaysia
Download Our Mindhostsplus Application
Feel free in downloading our application from google playstore and IoS App Store.
Indgiants is the architect of change & Mindhostsplus is its Medium
Designing a future where education transcends boundaries...